---
Join Fiona Giles as she unpacks the third and fourth instalments of Tim Tipene's Pipi & Pou series in this latest batch of junior fiction reviews.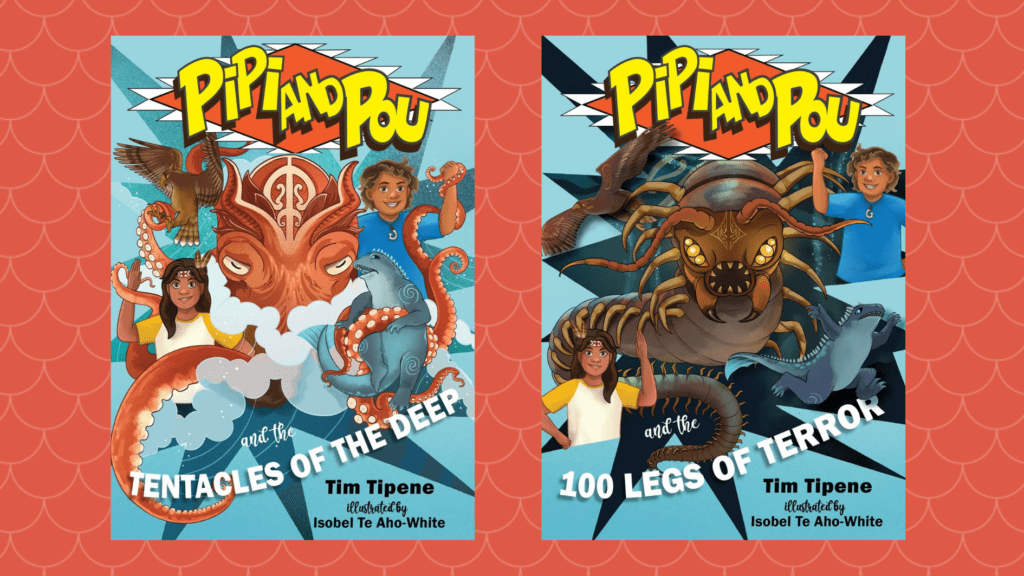 Pipi & Pou and the Tentacles of the Deep (Pipi & Pou #3) & Pipi & Pou and the 100 Legs of Terror (Pipi & Pou #4) by Tim Tipene 
Cousins Pipi and Pou are back with their Nana for more adventures protecting the natural environment from human interference.
Never off-duty, when Nana receives a call, she is always ready to respond. Even if it means scaling the roof of her home for better reception or leaving a fun-filled day at the beach with games and kai. Young Pipi and Pou though are not as sure at first, seeming to dislike the fact that their responsibilities as kaitiaki keep them away from other fun such as swimming with the whānau. But once an adventure gets going they don't want to be anywhere else. The cheeky pair are always ready to protect nature and whānau.
They also know better than to refuse Nana, for they are kaitiaki: guardians and protectors of the land and those within it. Nana is a kuia and a tohunga—an expert in the natural world—and it seems that all throughout New Zealand, she is called upon to set things right. Even the Prime Minister knows Nana is the woman to entrust with fixing environmental problems in Aotearoa, New Zealand.
Her mokopuna are her keen assistants, and magical ones at that. With a shout, Pipi can transform herself into an eagle, and Pou can turn himself into a taniwha—talents that prove useful time and again in helping their grandmother and the natural world. Young readers will love their superhero-style traits and enthusiastic hi-jinks.
Book 3 of the series, Pipi & Pou and the Tentacles of the Deep, is an engaging, fast-paced read. The intrepid trio meets Wheke Ripo, an enormous and angry octopus who is fed up with the state of his coastline. Humans have been stripping too much marine life and the mussels, ika, kina (and more) have had no chance to grow and replenish. Nana, Pipi and Pou face the double challenge of saving the coast from depletion as well as the beach-goers from a very angry octopus.
In Book 4, Pipi & Pou and the 100 Legs of Terror, the Prime Minister herself tasks Nana with investigating a supposed monster in a forest. There they find Hurahura, a sci-fi-sized centipede, who is worried about another threat—one that could kill the whole forest and Tikokekoke, the sacred kauri tree within. But with Nana, Pipi and Pou on the case, a resolution won't be far off.
Both stories have real-life parallels that adults can discuss with children: the importance of restricting what can be taken from the coastline, to allow it time to recover, the inadvertent destruction that can be wrought by introduced species, and the fact that efforts must be consistent if they are to succeed—something even a giant centipede can acknowledge.
The two tales are well-crafted with clear, concise storytelling which feature serious themes that are lightened by comedic touches. While packed with vivid descriptions and tense situations, these stories are unlikely to actually frighten youngsters. Tipene's engaging writing will hook the reader from the first page, with its rapid pace, punchy dialogue and humorous squabbling between the titular pair.
Isobel Te Aho-White's full and half-page illustrations are sprinkled throughout the books. They are expressive, bringing to life the humans and animals in the stories. I found the lovingly detailed depiction of Tangaroa to be particularly absorbing.
Tipene cleverly weaves in information about the animal spotlighted in each story and te reo Maori is sprinkled throughout, flowing easily beside—and gaining context from—the English text. There is also a helpful glossary at the back of each book for clarification if needed. The reader comes away not only entertained but educated too.
Particularly endearing is the relationship between the cousins. Living together with their Nana, they are clearly close like siblings, bickering often and verbally prodding and teasing each other. Their deep bond is undoubtedly clear and children with similar close family ties will feel affirmed.
These imaginative and absorbing reads perfectly continue the series. Read aloud or read alone, the adventures of Nana, Pipi and Pou will captivate younger readers. Both books deal with difficult topics such as the destruction of the environment while maintaining a hopeful tone. They end on a note of optimism, reminding the reader that the joining of voices can be a force for positive change. 
You can read Hannah Marshall's reviews of the first two in the series here.
Pipi and Pou and the Tentacles of the Deep (#3)
By Tim Tipene
Illustrated by Isobel Te Aho-White
Published by OneTree House
RRP: $22.00
Pipi and Pou and the 100 Legs of Terror (#4)
By Tim Tipene
Illustrated by Isobel Te Aho-White
Published by OneTree House
RRP: $22.00
---
Fiona is a freelance writer from Ireland, now based in New Zealand. She enjoys tea, chocolate and dancing. She lives in Canterbury where she can be variously found working on her novel, reading books and walking her dog.