---
Summer's coming, and so are the school holidays. But don't fret, Carly Thomas has you sorted with this latest batch of picture book reviews, all featuring the beach and seaside activities to do/reminisce about with your little ones!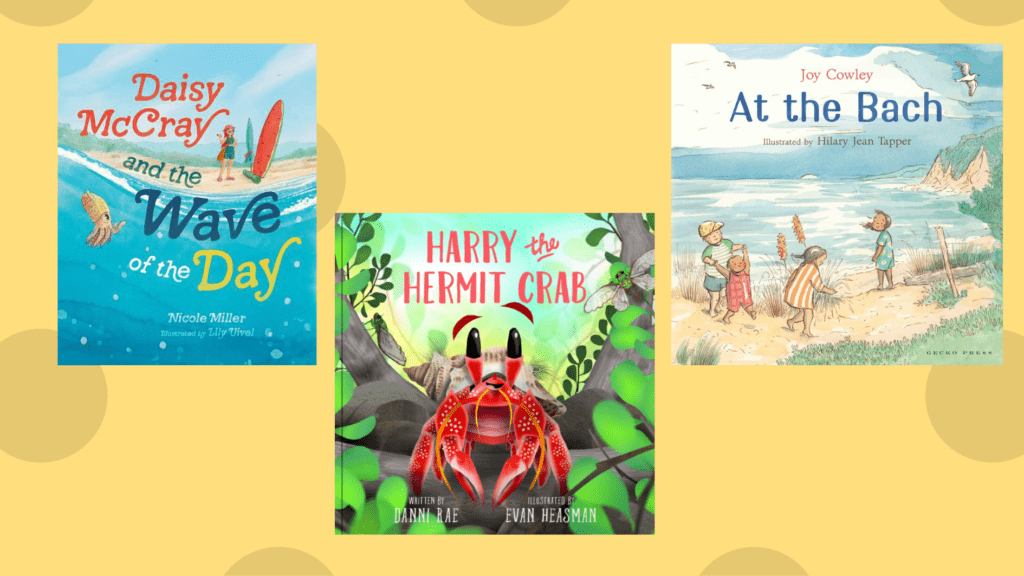 Daisy McCray and the Wave of the Day, by Nicole Miller
The anticipation of the summer holidays is building, just like the gnarly waves in Nicole Miller's latest children's offering. Daisy McCray and the Wave of the Day is a refreshing book with layers of messages that open up space for some good post-reading chats with little people.
Daisy McCray is a character who is all about her phone and for parents out there who want to encourage their kids to look up from their screens, Daisy is the perfect anti-hero. In her endeavour to capture the perfect selfie, she fails to enjoy the wide open blue sky that stretches in front of her and the adventures that have unfolded while she was scrolling.
While Daisy might have her name in the title, it's the book's other characters that really ride the wave of another message—that life can be full of surprises and wonderful connections when you put your phone down.
There's Jacky Laguna who uses his favourite moat-building shovel to turn his luck around, Kelly Aquinas who finds himself launched high like his kite and Sandy Marine who completes the accidental surfing trio. But my favourite character and the real instagrammable hero of the book is kick-arse cool Nana Pauline. Illustrated beautifully by Lily Uivel with pink hair and tattoos, Pauline boots stereotypical grans out of the water. On top of that, she also—in her surfing prowess—represents women in ocean sports which is something Nicole redflagged as being seldom told in children's books.
Lily's illustration style is recognisable. She has given life to a number of children's books since returning to New Zealand during the Covid-19 pandemic and rediscovering her love of drawing. Lily's colourful and simple art is brought to life with character enhancing flourishes like a search for a little squid on every page. Her style complements Nicole's whose use of rhyming verse makes the words sing in a laidback and easy way. Nicole uses the right kind of phonics to get readers listening while not being too much and her messages are told lightly with kindergarten and primary school age children in mind.
Daisy McCray and the Wave of the Day is a good addition to the summer holiday reading pile and one that will no doubt collect some sand and sunscreen smudges between its pages.
Daisy McCray and the Wave of the Day
By Nicole Miller
Illustrated by Lily Uivel
Published by Little Love
RRP: $15.00
To be released on the 25th November 2023
---
Harry the Hermit Crab, by Danni Rae
Harry is the cutest little underdog with sharp pincers that you will possibly ever find. He's an endearing character whose endeavour to find a new shell creates a teaching opportunity for our next generation of environmental warriors.
Danni's story follows a well-worn but effective narrative format that frames questions for young readers to answer as the story progresses. It's an engaging way to encourage active reading and while Danni isn't reinventing the wheel with her tale, she does do it well.
As a zookeeper, Danni is passionate about conservation and Harry's plight highlights the problem of plastic pollution on our beaches. Danni goes a step further by emphasising how we humans can help. She leaves readers with a plan of action that even the littlest of hands can achieve and the ethos of 'leave nothing but footprints' echoes throughout the book. Danni acknowledges that conservation 'requires optimism, determination and quite a lot of creative thinking' and offers the very doable first step of cleaning our beaches as a wonderful guerilla tactic. 
Evan Heasman's pictures jump off the narrative beautifully, incorporating pen strokes, watercolour dashes, photographic interest and digital depth. They are a bit different which is refreshing and the details create some great talking points to dive into.
Danni has included some facts at the back that could encourage further learning for the older kids. Here's hoping that some beach side strolls this summer can be a time to think about Harry the cutest crab there ever could be and what we can do to help this little battler.
Harry the Hermit Crab
By Danni Rae
Illustrated by Evan Heasman
Published by Little Love
RRP: $20
---
At the Bach, by Joy Cowley
Adults will enjoy this one just as much as the kids. This simple poem woven by Joy is beautiful indeed and she has a certain knack for using combinations of words that are comforting such as, 'creaky old bed', 'waves hush-hushing', and 'moon at the window'. The imagery she conveys through words are close-your-eyes-and-picture worthy but the illustrations by Hilary Jean Tapper also have a lush sink-into quality. Captured with watercolour and ink they have a dreamy, nostalgic feel.
Joy's poem paints a picture of an Aotearoa classic pastime—going to the bach, spending sun-drenched days on the beach, finding treasures and climbing up into a bunk after a long day well spent. It's one you will read so often, you'll know it off by heart and your kids will start joining in. It's also a great book for starter readers with its easy vocabulary and repetition.
Joy Cowley is our country's most prolific children's author and she is a master at conjuring up emotional responses with very few words. Her books, including this one, are just so authentically kiwi. They allow children to see themselves on her pages which can be quite something when you are a little person navigating a big world.
At the Bach is one of those books that will open up the chance to have a natter with your kids about holidays they have loved, what the beach means to them and dream a little about staying in a bach just like the one on its pages. This is another beautiful addition to the stack of books that Joy has created over the years and it is one that, I think, will be a cherished favourite.
At the Bach
By Joy Cowley
Illustrated by Hilary Jean Tapper
Published by Gecko Press
RRP: $30.00
---
Carly Thomas is a freelance writer living in rural Manawatu. She juggles a list of writing gigs that can get wonderfully eclectic.