---
This year has been huge for Paula Green, the biggest cheerleader of poetry for children in Aotearoa. She's had two children's books published, both with Puffin/Penguin Random House NZ. Jane Arthur talks with Paula about these books, poetry, and life.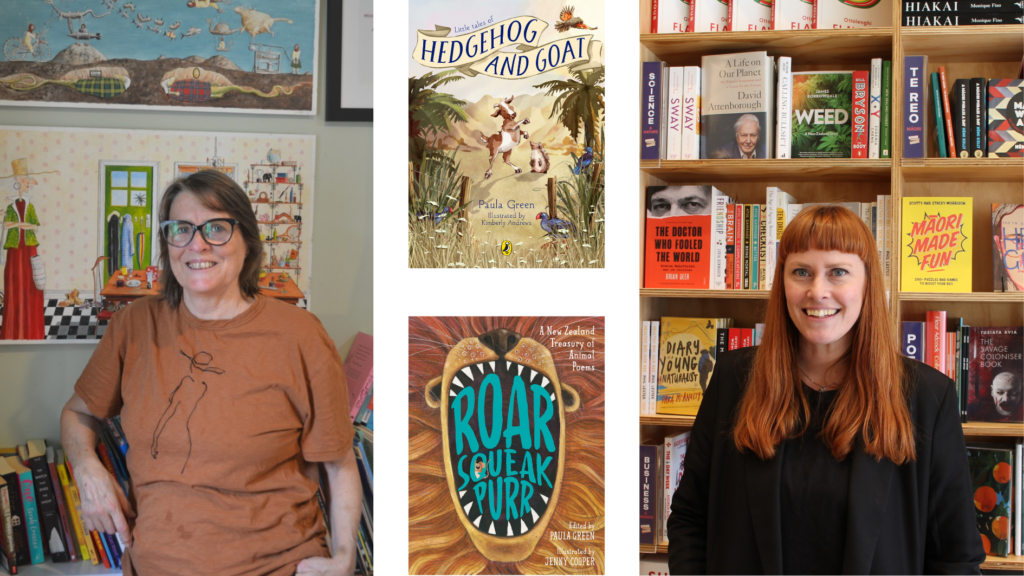 Paula Green is a force. She runs two poetry blogs (NZ Poetry Shelf for adults, and NZ Poetry Box for children), writes poetry and prose for children and adults, reviews books, and is a voracious reader and supporter of bookshops. She has received the Prime Minister's Award for Poetry and been admitted to the New Zealand Order of Merit for Services to Poetry.
A quality that is present through all of Paula's work is this imperative to inspire. She writes reviews that are celebrations, inspiring people to buy and read poetry from Aotearoa; she posts provocations on her children's blog, NZ Poetry Box, to inspire kids to write poems.
Her work makes the argument that building up can be robust; that leaving criticisms unsaid is a valid way to strengthen the local literature community, or that they can be worded gently and occasionally, without ego; that to meet a work where it's at, rather than where you wish it would be, is a show of respect.
This year, Paula has had two children's books published. Her novel for young readers, Little Tales of Hedgehog and Goat (RRP $20), with illustrations by Kimberley Andrews, has the feel of a classic. Set on a New Zealand farm and describing the wholesome antics of animal friends, it's sweet and constantly surprising. It plays with language and encourages creativity, be it poetry, dancing or daydreaming, and is a true delight to read aloud.
Roar Squeak Purr: A New Zealand Treasury of Animal Poems (RRP $45), illustrated by Jenny Cooper, is a stunning full-colour hardback collection of animal poems by top writers like Bill Manhire, Juliette MacIver, Joy Cowley and Apirana Taylor, as well as lots of poems written by children. It's one of those books you give a child for Christmas and they'll keep it for life.
What was your inspiration for Little Tales of Hedgehog and Goat? What was happening in your life when you wrote it?
I wrote this book during lockdown 2020. It was a strange and unsettling time, but we live a hermit life so that part was easy. I would wander up our country road, check out all the teddies on letterboxes, and stop and talk to the goat in the paddock. I liked the idea of playing with sayings. I had a seed of an idea and then it grew as I wrote. I was really surprised when Horse turned up but I knew they had to stay.
We live in the quiet surrounded by bush and birds and great views, but in lockdown it seemed like there were even more birds and more quiet. Perfect for writing a little novel. I love novels that feature animals and navigate important things about being human! I had such fun writing it.
You haven't been able to get physically out and about to promote Hedgehog and Goat. What do you wish you could have done with it, if the world were different?
In June this year I had a bone marrow transplant which is a high-risk, potentially life-saving procedure. I was in hospital for five and half weeks. It was a miracle but I was incredibly happy. I had invited writers to send me a card with a poem in and loads did. It was a little treat each day. The nurses and doctors were so kind, so patient, so overworked! It felt special to be with such amazing people. I especially enjoyed living in the present tense (and still do!). When I came home, I could tell I had a long bumpy slow recovery ahead, as I couldn't do any of things I usually do. But I could read, and children's books were the best.
With two new books out, normally I would plan and fund a nationwide tour to celebrate the books with children – in schools, libraries, bookshops. But my immune system has to reboot and my Covid vaccines went back to zero. I am hoping I can go out in the world by May. But with so few people wearing masks I can't imagine flying anywhere for a long time. To make up for this big loss (yes, I did feel sad!), and not being able to launch the books in person in Auckland, I invented loads of celebratory things for Poetry Box.
It was so special to have Jenny Cooper illustrate the book—each page is a joy.
Was Roar Squeak Purr your idea or did Puffin approach you? The illustrations by Jenny Cooper are divine: was it always envisaged as a beautiful illustrated hardback?
It was my idea – ideas drop in my head like feathers floating and, before I know it, they are ready to go! I pitched the idea to Penguin, and [children's publisher] Catherine O'Loughlin loved it. I loved working with her.
AND YES! It was so special to have Jenny Cooper illustrate the book—each page is a joy. I love how there are so many different kinds of illustrations just as there are many so many different kinds of poems.
And was it always your intention to have poems by children in the anthology, alongside poems by adults? Why did you do this?
Absolutely! I did it with the Treasury of NZ Poems too. I trawled for animal poems on Poetry Box. Having children's poems in the anthology is a way of inspiring other keen young writers and readers. Championing poetry for and by children on my blog is so rewarding.
How long does it take to make a book like Roar Squeak Purr? How do you find and choose the poems?
Usually I go to archives and libraries, but Covid put a halt to that. I have a huge collection of children's poetry books, and managed to order some from second-hand bookshops. I also emailed some of my favourite children's authors – and got a magnificent mountain of new poems to choose from. I spent a year gathering things and then Penguin took over, as I had the transplant approaching.
Maybe poems are like little chocolates – you put one on your tongue and let the flavours ripple and surprise.
Did anything surprise you along the way when putting together this anthology?
I was reminded that poetry for children can make us laugh, feel sad, be challenged, inspire us to write – however young or old we are. We get to feel things with poetry. Maybe poems are like little chocolates – you put one on your tongue and let the flavours ripple and surprise.
What is your hope for Roar Squeak Purr?
My hope for any children's book is that readers are moved and delighted and challenged. With Roar Squeak Purr, I hope children are inspired to write their own poems, and that the book is shared in classrooms. I picture a child reading a poem every night in bed before sleep.
For Penguin's sake I hope it sells exceptionally well.
I hope everyone agrees with me that poetry is liberating because there are no rules. It's like a language sandpit, a place of both imagination and of real life. We can all play with words and have fun.
What are your thoughts and observations on the state of books for children in Aotearoa right now? What is good, what is missing?
Over the past months I have read acres of wonderful children's books, especially those published in Aotearoa, and I have rued the fact so few of them have had attention in local media. For this reason, I reinvented the scope of Poetry Box. I want to make it a small but vital hub for children's authors, books and writing by children. Poetry, yes, but all genres. New Zealand books and a few sublime examples from overseas.
Poetry for children is the least well served. And yet poetry is such a liberating tool for young readers and writers. On my blog, I have children illustrating poems, reviewing books, writing poems, recording poems.
I know from my reading, we are publishing wonderful fiction and nonfiction for children and YA readers. I recently read Fleur Beale's brilliant [YA novel] Faraway Girl (Puffin/Penguin Random House NZ), and only knew about it because Harriet Allen [of Penguin] sent me a copy.
I think children's literature is bottom of the rung when it comes to reviews and a presence at festivals. What can we do about it? A big toast to a reactivated Sapling! A toast to every books page that features children's books. A big toast to specialist children's bookshops and to bookshops with excellent children's books sections.
Dream: I would love to go to festivals where authors get to interact with children in innovative events and author readings, AND where children's authors sit on panels and discuss writing for children with other adults.
Jane Arthur co-owns and manages GOOD BOOKS, a small independent bookshop in Pōneke Wellington. She twice judged the NZ Book Awards for Children and Young Adults, in 2019 and 2020. Her debut poetry collection, Craven (VUP) won the Jessie Mackay Prize for best first book of poetry at the 2020 Ockham NZ Book Awards, and a second collection will appear in 2023. Jane is also co-founder of The Sapling.